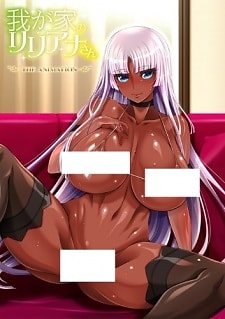 Information:
Judul

Wagaya no Liliana-san The Animation

Synonyms

我が家のリリアナさん THE ANIMATION

Score

7.23

Produser

Pink Pineapple

Tipe

OVA

Status

Finished Airing

Total Episode

1

Durasi

25 min

Tanggal Rilis

Jan 31, 2019

Studio

Seven

Genre

Big Oppai, Blowjob, Creampie, Maid, Paizuri, Romance, Dark Skin
Sinopsis:
Tatsuya sehabis ngumpul bareng temen wibu, tiba-tiba mendapat petunjuk ilahi mengarah ia untuk pergi ke gang kecil. Setelah mengusir segerombolan anjing di gang kecil tersebut, Tatsuya menemukan seorang gadis gelandangan si Liliana yang tidur di gang tersebut. Lalu, Tatsuya menolong Liliana dan memberikannya tempat tinggal di rumahnya Tatsuya. Seiring berjalannya waktu dan terbiasa bersama, Tatsuya dan Liliana saling jatuh cinta. Inilah kisah cinta mereka berdua yang bikin baper.
Download Wagaya no Liliana-san The Animation Subtitle Indonesia Batch Episode 01
Download Wagaya no Liliana-san The Animation Batch Subtitle Indonesia terupdate, terlengkap dan terkomplit anti ribet tanpa iklan. Dengan resolusi 360P, 480P, 720P, 1080P, HD, FHD BluRay Dalam Format MKV dan MP4 lengkap beserta Batchnya juga ditambah server download super ngebut tanpa iklan via GoogleDrive. Selain itu disini juga ada Anime, Hentai, Manhwa, Nekopoi, Dounjin dan Visual Novel lainnya.